Published: Monday, March 27, 2017 02:51 PM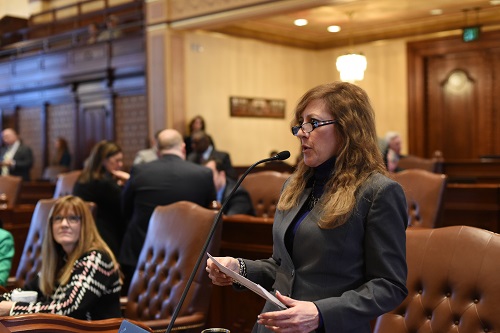 SPRINGFIELD – Illinoisans with developmental, intellectual and mental disabilities can now apply for a special state ID card to help them navigate interactions with law enforcement thanks to legislation passed by Senator Linda Holmes (D-Aurora).
"The new ID cards give more information to law enforcement so that they don't misinterpret certain behaviors as hostile or uncooperative," Holmes said. "The cards will give people with disabilities and their loved ones peace of mind, knowing that their needs are being communicated to law enforcement. This idea was brought to our attention by a local parent whose child has autism, so the new ID cards are a response to an important demand from the community."
In order to be issued a card, a person must have a disability such as autism, epilepsy, anxiety, bipolar disorder or schizophrenia. The cards can be given in addition to other state identification when requested by law enforcement.
"Fortunately, the Aurora Police Department and other law enforcement agencies in the 42nd district have already been proactive by training officers to have better interactions with people with disabilities," Holmes said. "As more people begin to take advantage of these ID cards, first responders can develop and enrich their training programs."
"This should be a great tool," Aurora police Lt. Mike Abbs said. "The more information we have on people's abilities and disabilities when we first encounter them, the better we can serve them."
The card lists identifying information and the following inscription: "My medical condition may impair my ability to communicate with others, especially with strangers or in stressful situations. Please do not interpret my behavior as refusal to cooperate."
Holmes urges area residents and their loved ones interested in being issued a person with a disability wallet card to apply for free at the Secretary of State's office or contact her Aurora Office at (630) 801-8985.
Category: Uncategorised