Published: Tuesday, July 11, 2023 02:23 PM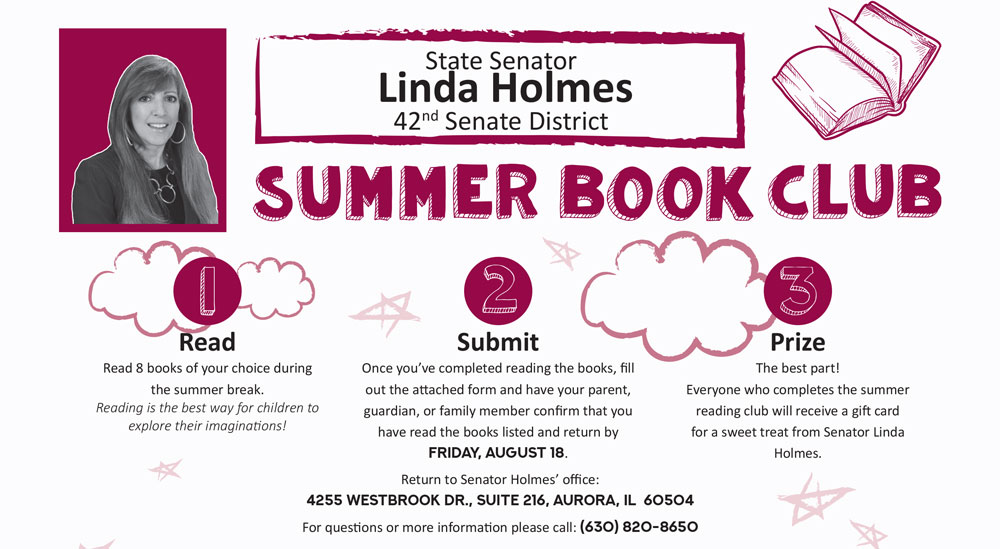 AURORA – State Senator Linda Holmes announced the launch of her Summer Book Club designed to encourage young readers in the 42nd Senate District to read over summer break.
"Reading skills aren't just for academic work at school, they help students expand their vocabulary and learn about sports, art, music, or any other thing they're curious about or participate in," said Holmes (D-Aurora). "I hope students will pick up a book and enjoy being transported to another world and new perspectives."
To participate in the Summer Book Club, students must read eight books of their choice during the summer break, record the names of the books on a form and return the form to Holmes' office by Aug. 18. Each student who completes the Summer Book Club will receive a gift card for a sweet treat.
The form is available now on http://senatorholmes.com in the right sidebar. Printed copies are available at these area libraries:
· Naperville Public Library - 95th Street Branch - 3015 Cedar Glade Dr., Naperville, IL 630-961-4100
· Aurora Public Library District - Eola Road Branch - 555 South Eola Rd., Aurora, IL 630-264-4117
· Aurora Public Library District - West Branch - 233 South Constitution Dr., Aurora, IL 630-264-4117
· Oswego Public Library District - Oswego Campus - 32 West Jefferson St., Oswego, IL 630-978-1205
· Oswego Public Library District - Montgomery Campus - 1111 Reading Dr., Montgomery, IL 630-554-3150
· Messenger Public Library of North Aurora - 113 Oak St., North Aurora, IL 630-896-0240
· Batavia Public Library - 10 South Batavia Ave., Batavia, IL 630-879-1393
· Geneva Public Library District - 227 South Seventh St., Geneva, IL 630-232-0780
· St. Charles Public Library District - One South Sixth Ave., St. Charles, IL 630-584-0076
· Sugar Grove Public Library District - 125 Municipal Dr., Sugar Grove, IL 630-466-4686
· Yorkville Public Library - 902 Game Farm Rd., Yorkville, IL 630-553-4354
Category: New Releases