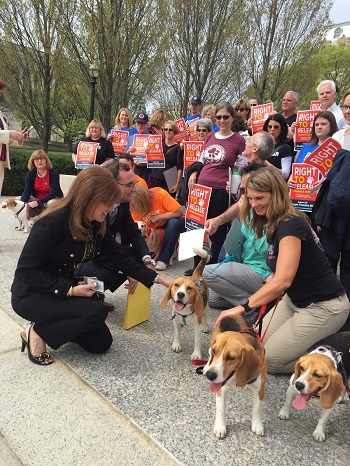 The Associated Press - May 24, 2016 | As published in the St. Louis Post-Dispatch
SPRINGFIELD, Ill. — A bill that would've required universities in Illinois to offer healthy feline and canine test subjects to rescue organizations has provoked a dispute between its Democratic sponsor and the University of Illinois.
The initial legislation from state Sen. Linda Holmes of Aurora stalled after the university said it already has adoption procedures in place and several lawmakers questioned whether it was a solution in search of a problem, the Chicago Tribune reported.
The measure is nicknamed "the beagle bill" because beagles are the breed of dogs most commonly used for experiments and the adoption effort is bolstered by the Beagle Freedom Project, an animal rights group that's successfully lobbied for similar legislation in Minnesota, Connecticut, Nevada and California. The goal is to prevent animals from automatically being euthanized when labs are done testing on them.
Holmes argues that the University of Illinois doesn't support the measure because it has a vendetta against the Beagle Freedom Project and it doesn't want a spotlight shone on animal testing at its facilities.
University of Illinois officials deny any mistreatment of the school's research animals.
Spokeswoman Robin Kaler said the university's research animals are used in trials to test ingredients used in pet food. She said most of the animals are adopted and only some are euthanized so researchers can collect internal tissue for futher analysis.
Between 2011 and 2015, 24 dogs owned by the university for research purposes were adopted, five were euthanized and one remains on campus, according to data released by the school.
Holmes made several changes to the bill after the initial version was shot down. Last month, she proposed requiring universities to publicly post animals available for adoption online, and most recently proposed requiring universities to make their animal research protocols public.
But the University of Illinois continues to argue that the legislation isn't needed when most of its animals already found homes.
The changes were met by conflicting opinions from lawmakers who didn't see the need to override experts and others who didn't see any harm in enforcing new regulations.
Read the original article as published at the St. Louis Post-Dispatch here.