Published: Friday, June 09, 2017 02:13 PM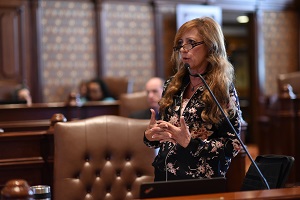 SPRINGFIELD – In response to President Donald Trump's recent actions on climate change, State Sen. Linda Holmes, D-Aurora, joined dozens of state elected officials in signing a letter to Gov. Bruce Rauner inviting him to stand with them in support the Paris Climate Agreement.
"We are calling on Governor Rauner to stand with us against global warming, rising sea levels and other preventable catastrophes," Holmes said. "Illinois can and should continue to lead the way on environmental protection by working toward the goals of the Paris Climate Agreement."
President Trump withdrew support for the international agreement last week. The Paris Climate Agreement is a United Nations initiative that aims to manage the global average temperature, improve ability to adapt to climate change and increase investment in green technology. So far 148 of the 197 parties to the convention that drew up the agreement have ratified it.
Those who signed the letter to Gov. Rauner call on him to join the governors of 12 other states including Washington, California and New York in continuing to work to limit carbon emissions.
"Fighting climate change is especially important in a state like Illinois, where agriculture is so important to our economy and our communities. We should join states like Washington, California and New York in protecting the environment, as the president refuses to do so," Holmes said.
Category: Latest