Published: Wednesday, March 06, 2019 11:40 AM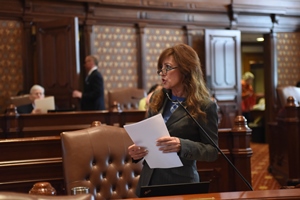 SPRINGFIELD – State Senator Linda Holmes (D-Aurora) passed a measure to address the election of trustees for the Fox Metro Water Reclamation District on Wednesday. Senate Bill 100 requires the trustees be elected rather than appointed. The bill had been vetoed by the governor in August 2018 and has been brought back to and approved in the Senate Local Government Committee.
"I believe it is important that those who represent the citizens of our communities should be elected and not appointed," Holmes said. "This bill provides for trustee candidates to go on the ballot during consolidated elections. It represents government reform that will better serve water quality needs in the future for people in the Fox River Valley."
The Water Reclamation District was created in the late 1920s and today serves nearly 300,000 residents in Aurora, North Aurora, Boulder Hill, Montgomery, Oswego, Sugar Grove and portions of Yorkville and Batavia, according to the Board's website.
Senate Bill 100 provides that trustees will be elected at consolidated elections, rather than appointed by members of the General Assembly, beginning with the 2021 consolidated election. Current members of the Board can continue to serve until their terms expire, at which time an elected trustee will take their place on the Board. Trustees will be elected to staggered 4-year terms. The Board will continue to have five total members.
Approved by the Senate Local Government Committee, the measure now moves to the full Senate for consideration.
Category: Latest