Published: Thursday, May 10, 2018 04:01 PM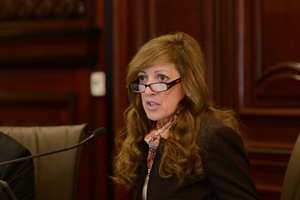 SPRINGFIELD – State Senator Linda Holmes (D-Aurora) advanced a series of proposals through a key Senate committee yesterday to extend the same rights granted to firefighters to paramedics that are also employed by units of local government.

"Just like firefighters, paramedics face life-threatening circumstances to save lives and serve our communities," Holmes said. "We owe it to paramedics and their families to give them the same rights as firefighters for the dangerous sacrifices they are willing to make."

Holmes's proposals include:
• House Bill 126, which includes paramedics in the same collective bargaining unit as firefighters
• House Bill 127, which extends health coverage and educational benefits to paramedics and EMTs if they suffer a catastrophic injury or are killed in the line of duty
• House Bill 5221, which allows paramedics to continue to receive the same rate of pay if they are injured in the line of duty and are unable to continue working

The legislation will only affect the approximately sixty paramedics employed by units of local government, which includes those in Masouctah, Menard County, Morton, Highland, Troy and Union County.

The proposals Each of Holmes' proposals passed the Illinois Senate Labor Committee yesterday. They will now be heard by the full Illinois Senate.
Category: New Releases