Published: Friday, May 25, 2018 04:04 PM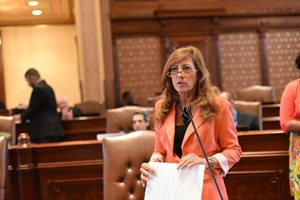 SPRINGFIELD – State Senator Linda Holmes (D-Aurora) passed legislation through the Illinois Senate to ensure that victims' voices are heard during plea agreements, in juvenile cases or when the defendant is found not guilty due to insanity.

The proposal came from the Illinois Attorney General's office, who believes courts do not consistently allow crime victims to testify.

"The victims affected by these criminals deserve to have their voices heard during the sentencing process," Holmes said. "As the affected party, we need to ensure their opinions are not silenced."

Currently, victims and prosecutors are not given notice of status hearings where information is provided to the court. As a result, they may not be prepared to proceed in a way that adequately protects the victims' rights.

Holmes' proposal, House Bill 5573, passed the Illinois Senate with a vote of 49-0. It has now passed both chambers of the General Assembly and will head to the governor's desk for consideration.
Category: New Releases