Published: Tuesday, August 07, 2018 04:35 PM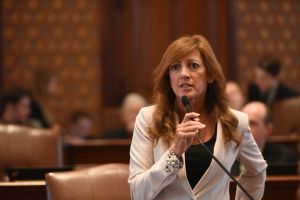 SPRINGFIELD – Young people in Illinois now have increased access to information about human papillomavirus (HPV) under a measure sponsored by State Senator Linda Holmes (D – Aurora) that became law today.
Under previous law, schools were only required to provide HPV information to female students entering the 6th grade. The new law requires schools to ensure that all students, both male and female, receive the necessary information.
"HPV is a very serious condition that can lead to cancer diagnoses in both men and women," Holmes said. "To only mandate that female students be provided the information leaves half of the population vulnerable to a potentially life threatening illness, and I'm proud to have helped pass a law that allows for everyone, regardless of sex, to receive the information they need to remain healthy."
Senate Bill 2866 passed through both chambers with bipartisan support, and is effective as of January 1, 2019.
Category: New Releases