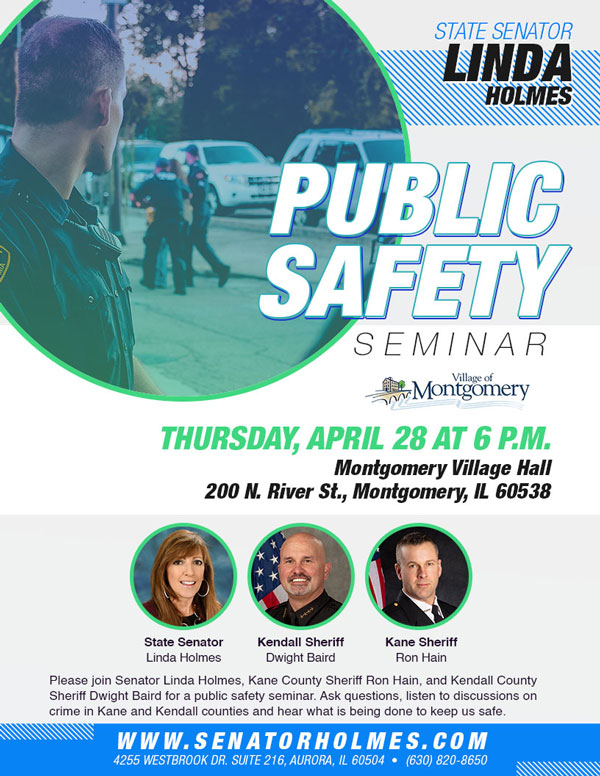 AURORA - After growing concerns about the prospect of increasing crime in Kane and Kendall counties, State Senator Linda Holmes (D-Aurora) has organized an event where members of the public can join her, Kane County Sheriff Ron Hain and Kendall County Sheriff Dwight Baird for a Crime and Safety Seminar.
"I know local residents are troubled about crime in our communities and what they can do to protect their home and families," Holmes said. "Sheriffs Baird and Hain will be on hand to talk about the nature of crime in our communities and how their departments are looking to community members to help stem the tide."
"The Kendall County Sheriff's Office are partners with a variety of community groups to create an ongoing, open dialogue to help us better understand the needs of our community," Baird said. "We can then develop strategies to address those needs and identify ways to more effectively combat crime."
This program will take place on Thursday, April 28 at 6:00 pm at Montgomery Village Hall, 200 N. River St, Montgomery. Attendees will be encouraged to engage with speakers to discuss crime in Kane and Kendall counties.
"The Kane County Sheriff's Office has prided ourselves on supporting our deputies in their roles serving the community, and we have created a positive public safety environment," Sheriff Hain said. "I look forward to engaging with seminar participants to build true community understanding and relations."
Details:
Thursday, April 28 at 6:00 pm
Montgomery Village Hall
200 N River St, Montgomery, IL 60538
State Senator Linda Holmes
Kane County Sheriff Ron Hain
Kendall County Sheriff Dwight Baird
*Media are welcome to attend*