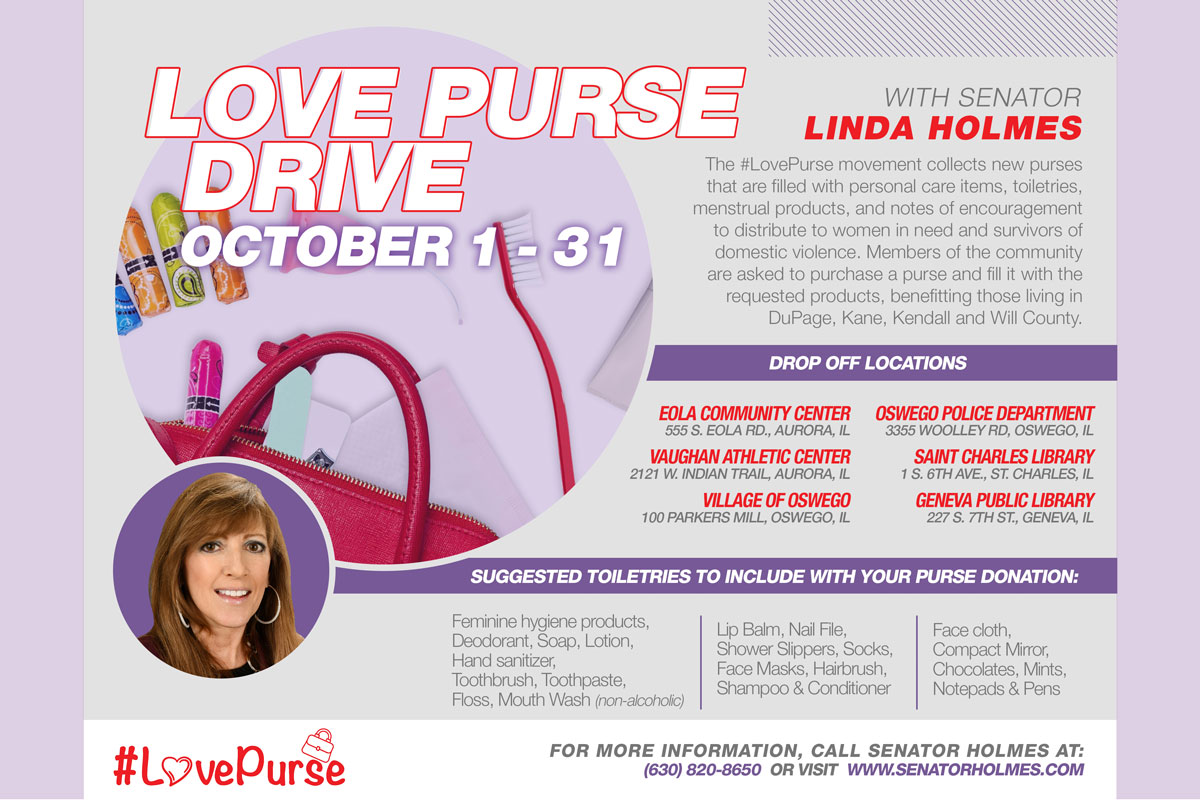 October is Domestic Violence Awareness Month

AURORA – State Senator Linda Holmes is working with local agencies to host a "#LovePurse" donation drive for area women in need. October is Domestic Violence Awareness Month, and Holmes wants to increase awareness, and provide essentials to survivors in the 42nd Senate District.
"Women fleeing domestic violence, human trafficking or in need sometimes have left difficult circumstances with no belongings at all, perhaps including their purse and bare necessities," Holmes said. "Love Purse gives survivors the products and care they need, and our community can take part by helping these women recover with some essentials and encouragement."
The "#LovePurse" movement collects new purses that are filled with personal care items, toiletries, menstrual products, and notes of encouragement to distribute to women in need, those who are unhoused and survivors of human trafficking and domestic violence. Holmes is asking members of the community to purchase a new purse and fill it with the requested products, and then take them to a nearby drop-off location.
Purses and personal care products can be dropped off at the following locations during their normal hours of operation from Oct. 1-31:
Eola Community Center - 555 Eola Rd, Aurora
Vaughan Athletic Center - 2121 W Indian Trail, Aurora
Village of Oswego - 100 Parkers Mill, Oswego
Oswego Police Department - 3355 Woolley Rd, Oswego
Saint Charles Library - 1 S 6th Ave, St. Charles
Geneva Public Library - 227 S 7th St, Geneva

The donated items will be distributed through agencies serving survivors in the district. More information about "#LovePurse," as well as a full list of requested products can be found on their website at lovepurse.org.