Published: Friday, August 08, 2014 11:34 AM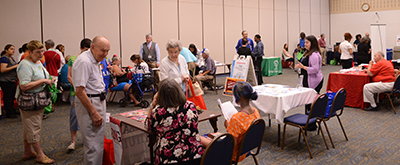 Over 100 seniors gathered at the Prisco Community Center in Aurora recently for the 42nd District Senior Resource Fair.
State Senator Linda Holmes (D – Aurora) joined with State Representatives Linda Chapa LaVia and Stephanie Kifowit and the Prisco Community Center to host the free event. Nearly 20 local and state agencies and organizations participated.
"The state has a marvelous array of services for our seniors and our veterans," Senator Holmes said. "Unfortunately, people are not always aware of everything that is offered to them. When you have agencies and organizations together in one location, it definitely simplifies the process for our seniors."
The fair offered seniors free health screenings, the ability to renew driver's licenses and obtain state ID cards, as well as information on programs from local colleges and health organizations.
Category: New Releases