Published: Tuesday, December 03, 2013 06:18 PM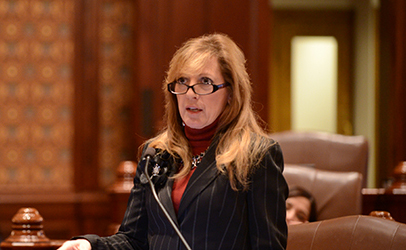 Today, the General Assembly passed a pension reform proposal that I did not support.
Like supporters of Senate Bill 1, I'm concerned about our state's fiscal situation. But the state's budget should not be balanced on the back of our state retirees. We made a promise and, based on those promises, retirees made plans for their future.
The state signed an agreement with state retirees but as seen today, the General Assembly broke their promises.
In 2010, the General Assembly reformed pensions and created a two-tier pension system for new state employees. Many of my colleagues and I thought the changes were drastic but we were told new state employees have a chance to change their plans for retirement and make adjustments for their future. Now, since that was not enough, decisions were made to go after existing retirees and those close to retirement. This is inherently wrong and I believe we are taking away people's futures.
On the floor, I made comments explaining my position on pension reform and urged my colleagues to vote no. Click below to listen to my comments.
There is no perfect solution to Illinois' pension crisis. I negotiated Senate Bill 2404 and continue to urge Speaker Madigan to call it for a vote in the House. Employees and retirees offered concessions. It contains difficult sacrifices, but our public employee unions understand this state's dire financial conditions. They were willing to be part of a solution even after the state failed to keep its promises.
My office has received thousands of emails, letters and phone calls asking me to vote against pension reform and to fight for the rights of retirees. I have every intention of continuing to push for a fair and more equitable solution.
As more information becomes available, I will keep you updated. Please don't hesitate to contact my office or send me an email with any questions or concerns.
Please click below to hear Senator Holmes floor remarks on Senate Bill 1:
Category: New Releases