Published: Tuesday, March 17, 2015 12:15 PM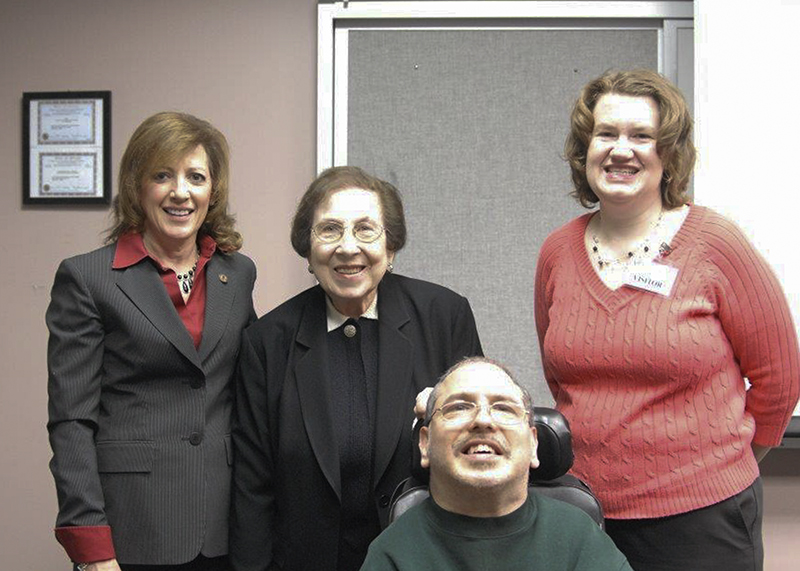 AURORA — Parents who care for children with disabilities shouldn't be forced to consider moving them to residential care at devastating expense, State Sen. Linda Holmes argued, alongside families who might be affected by a proposed cut in Gov. Bruce Rauner's FY 2016 budget.
"They send someone to help when I don't have anybody," said Joan Chioles, 83, whose son, 46-year-old James, has developmental disabilities and lives at home through help from the Aurora-based Association for Individual Development (AID). "I wish [Gov. Rauner would] come here and see what's going on. It would be nice if he could come over here and visit some of these schools and these facilities."
Lynn O'Shea, president of AID, said about 100 families who receive services from her organization could be similarly affected. For adults with disabilities who have aging parents, the only recourse may be residential placement that can cost families at least $50,000 and the state upwards of $35,000 per person, O'Shea said.
Carrie Abbs also receives help from AID to care for her 11-year-old son Teddy, who is autistic. In-home respite services allow her to ensure Teddy has adequate care while she and her husband run errands and ensure their children are making it to engagements on time.
"The respite for us is a godsend," Abbs said. "It's hard raising a child with a disability and even harder in the state of Illinois."
Holmes joined staff of AID and the Abbs and Chioles families at the organization's facility in Aurora to speak out against the proposed reduction. The proposed cut would eliminate $143,000 in funding to AID and mean about 100 families would be without the program, which provides in-home assistance that helps such families care for their grown children at home, said Lynn O'Shea, president of AID.
"Respite care is a way for parents who are caring for children with disabilities, young and old, to be able to manage their lives. For adults with disabilities who have aging parents, it means being able to remain with their families," Holmes said. "As we work toward a budget plan, I am willing to take a hard look at our fiscal situation in Illinois, but I can't support such a cruel, short-sighted cut."
Category: New Releases