Published: Thursday, April 23, 2015 01:52 PM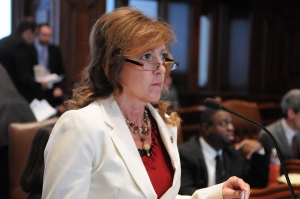 SPRINGFIELD — Working alongside Attorney General Lisa Madigan to crack down on unlicensed employment agencies, State Sen. Linda Holmes advanced a plan out of the Illinois Senate Wednesday.
"There are employers out there flouting the law, exploiting some of the most vulnerable workers in some of the lowest-paid jobs," Holmes said. "I'm gratified to work with Attorney General Madigan to toughen enforcement and protect jobseekers. I urge my colleagues in the House to pass this important legislation."
The legislation seeks to address regulations that have not seen substantive updates in decades and that currently provide inadequate tools for the Attorney General's Office to enforce compliance.
Workers who have been placed by such unregulated agencies have alleged numerous instances of abuse they have suffered at the hands of employers, including being made to work 6-day work weeks of 12-hour shifts to pay off referral fees, being referred to jobs that pay below the minimum wage, being housed in crowded and substandard conditions and being denied medical treatment for on-the-job injuries.
"My office initiated this legislation after uncovering instances of low-income and immigrant workers being subject to dangerous and often illegal working conditions. They were placed in those conditions by employment agencies that were frequently operating without licenses," Madigan said. "This bill will strengthen our laws so that we can stop licensed and unlicensed employment agencies from taking unfair advantage of Illinois workers."
In addition to providing civil penalties for such violations, Holmes' proposal directs the Department of Labor to create and maintain a database of employment agencies with suspended or revoked licenses, requires employment agencies to keep records of their placements longer and provides whistleblower protection to employees who report misconduct.
The legislation is Senate Bill 1859. It proceeds to the House for consideration.
Category: New Releases