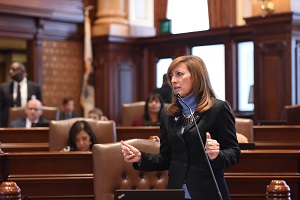 SPRINGFIELD – To make local government more efficient and ease the property tax burden on her constituents, State Sen. Linda Holmes, D-Aurora, voted in favor of SB3, a bill that grants counties the ability to cut or consolidate local units of government. Previously, only DuPage, Lake, and McHenry Counties were able to consolidate local government units in this way. This bill extends that ability to all counties in the state.
"The property owners in my district have suffered under an increasingly large property tax burden over the years," Holmes said. "Property taxes rise for numerous reasons, but one common-sense way to control and lower them is to grant local governments the ability to consolidate and eliminate unnecessary and wasteful units."
With over 7,000 units of local government, Illinois has more than any other state in the country. This legislation is a step toward lowering that number and streamlining government.
Having passed the Senate as part of the "grand bargain" agreement, SB3 awaits the approval of the rest of the bills in the package before moving on to the House of Representatives.