Published: Tuesday, May 23, 2017 07:50 PM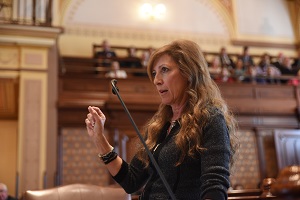 SPRINGFIELD – State Sen. Linda Holmes, D-Aurora, voted today to approve a balanced budget for 2018. If signed into law, it would end Illinois' historically long budget impasse.

"Today, I voted for a solution," Holmes said. "After more than two years without a budget, we finally have a plan that fully funds the services and grants that people rely on in the 42nd district and across the state."

The budget fully funds programs including breast and cervical cancer screenings for underinsured women, domestic violence shelters, mental health programs and addiction treatment. Additionally, the budget reinstates grant programs, dedicating $4.3 million for autism support, $1 million for addiction prevention programs and $364 million for MAP grants.

Holmes emphasized that voting for the balanced budget is the responsible thing to do for Illinois, as it would put an end to a lengthy budget crisis that has created chaos across the state.

"This plan spends only as much as Governor Rauner had planned to spend in his budget proposals," Holmes said. "Unlike Governor Rauner's most recent proposal, it uses a combination of cuts and revenues to achieve balance. By approving this plan, we have done our part to give the people and businesses of Illinois the stability and certainty that they deserve."

The Illinois Senate approved six measures that would implement and fund a budget for fiscal year 2018. The measures will now go to the House of Representatives for further review.
Category: Latest