Published: Wednesday, February 15, 2017 04:50 PM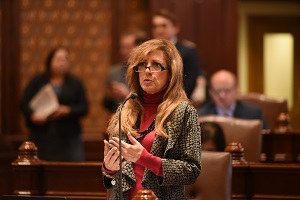 SPRINGFIELD – State Sen. Linda Holmes, D- Aurora, highlighted the consequences of Illinois' budget impasse in her district.
"The state has not had a balanced budget since Governor Rauner took office, and the impasse has hurt Illinoisans of all walks of life," Holmes said. "The Illinois Constitution states that the governor must provide the legislature with a balanced budget. He has not done so and Illinois residents have suffered as a result. In his public remarks, the governor has continually tried to minimize the negative effects of going without a budget, but my constituents are struggling."
Mutual Ground, a shelter and service provider for victims of domestic violence and sexual assault, signed a contract with the Illinois Department of Human Services for fiscal year 2017. The organization has yet to be paid this year. Michelle Meyer, executive director of Mutual Ground, estimates that the organization is missing over $370,000 in state funding.
"Mutual Ground not only provides vital services for victims of crime, but it is an organization that employs 43 people in our community," Meyer said. "We are consistently being asked to foot the bill for services the State contracts us to provide. Human services are crucial to the overall health of our State and are unfortunately some of the most negatively impacted by our State leaders' inability to work toward a resolution. This cannot continue"
Mutual Ground offers intervention, prevention, and continuing support services for victims of domestic and sexual violence. The nonprofit was not covered in the stopgap spending plan and leaders have not been told when or if they will receive funding for the current year. The uncertainty has caused the departure of 10 staff members due to attrition and layoffs. As a result, Mutual Ground has been forced to turn away people in need of services.
Category: Uncategorised