Published: Friday, September 15, 2017 04:25 PM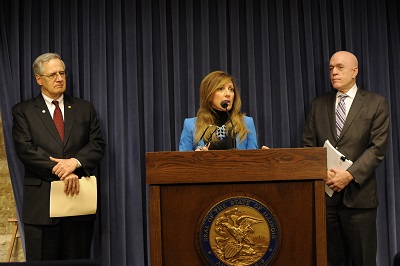 SPRINGFIELD – A measure sponsored by State Sen. Linda Holmes, D-Aurora, that would protect health insurance plan participants from drastic and disruptive changes to coverage networks was signed into law today.
"With what is happening with health care at the federal level, we in state government must give people some peace of mind," Holmes said. "This legislation keeps people updated about their insurance networks and provides some stability for consumers during such a turbulent time for health care."
The legislation will fix narrow health care provider networks by maintaining standards for access to prevent plan participants from traveling long distances for medical care, keeping network directories up to date, notifying patients of network changes and allowing people with serious health needs to stay with their provider.
The Network Adequacy and Transparency Act has earned broad support from both Republicans and Democrats as well as the American Cancer Society, the Illinois Health and Hospital Association, the Illinois State Medical Society and many other health organizations.
"This legislation is needed because people think they are playing by the rules when purchasing health insurance, but are often in for a surprise when they try to go to a doctor," said Illinois State Medical Society President Thomas M. Anderson, MD. "Patients may have done their homework and checked that their doctor is in-network, only to show up to their appointment and find out the insurance company website was out-of-date and they won't get the coverage they were promised."
The Network Adequacy and Transparency Act, House Bill 311, was signed into law today. It goes into effect January 1, 2018.
###
Category: Latest