Published: Tuesday, November 07, 2017 06:41 PM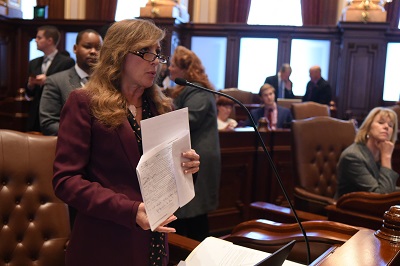 SPRINGFIELD – First-time entrepreneurs will be able to save money on state licenses and permits under a new pilot program. The entrepreneur learner's permit program was introduced and sponsored in the Illinois Senate by State Sen. Linda Holmes, D-Aurora.
"Entrepreneurs take on a lot of risk when they start new businesses. This risk taking is what ultimately moves the economy forward," Holmes said. "Any time we in state government can encourage people to start businesses and create jobs, we should do so with fiscally responsible and thoughtful legislation."
The Senate recently voted to override Gov. Bruce Rauner's changes to the entrepreneur learner's permit pilot program. The original version of the legislation minimizes spending by creating a pilot program to subsidize first-time entrepreneurs in information services, biotechnology and green technology with a state spending cap of $500,000.
The governor used his veto power to remove the spending cap and expand the pilot program to include all industries. Holmes says that the governor's amendatory veto turns a smart business development measure into a potentially wasteful program.
"The governor's changes would direct an unknown sum of taxpayer dollars into a pilot program that may still need improvements," Holmes said. "This is a surprising and confusing decision by Governor Rauner, who has presented himself as a fiscally responsible reformer. We were able to return to a much more limited, fiscally responsible version of this pilot program that can be expanded if it is successful."
The entrepreneur learner's permit would encourage small business growth by reimbursing first-time business owners for certain costs paid to the state for licensing and permits. The Illinois legislation is a pilot version of a similar program established by the Connecticut State Legislature in 2016.
After veto override votes in the Illinois Senate and House of Representatives, Senate Bill 1462 is now law. It will take effect immediately.
###
Category: Uncategorised