Published: Thursday, April 26, 2018 06:28 PM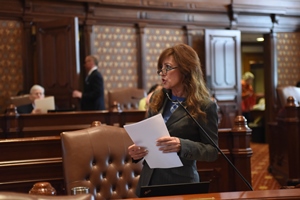 SPRINGFIELD – Voters in the western suburbs would have local control over the makeup of the Fox Metropolitan Water Reclamation District board under legislation advanced today by State Senator Linda Holmes (D-Aurora).

Holmes's proposal, Senate Bill 2830, would allow voters in the areas served by the Fox Metro Water Reclamation Districts to elect their own trustees. These areas include Aurora, North Aurora, Boulder Hill, Montgomery, Oswego, Sugar Grove and portions of Yorkville and Batavia.

Under current state law, Fox Metro Water Reclamation District trustees are appointed by members of the General Assembly, instead of being selected by voters in their area.

"Water Reclamation Boards make decisions that affect people's lives every day. Voters, not politicians, should be allowed to choose who makes these decisions," Holmes said.

Under Holmes's proposal, members of the board will be elected beginning in the 2019 consolidated election. The board would continue to have five total members. Current members would continue to serve until their terms expire.

"Allowing politicians to fill these roles increases the potential for corrupt dealing and government waste, and there is little the public can do about it," Holmes said. "This proposal allows voters to hold these public servants directly accountable through the electoral process."

Holmes's proposal passed the Senate with a vote of 54-01. It will now head to the Illinois House of Representatives.
Category: Latest