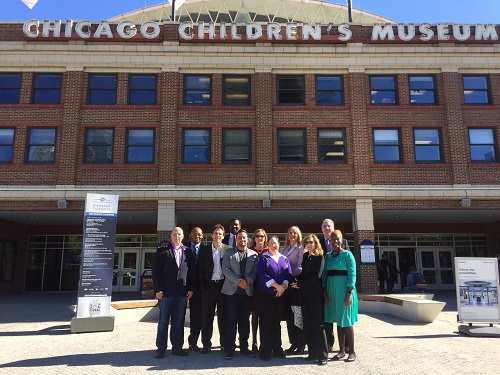 During a visit to Chicago's Navy Pier, a group of Illinois legislators learned about the importance of tourism in Illinois' economy. Navy Pier is the most visited attraction in Illinois and the Midwest with 9.3 million visitors each year.

Lawmakers were given a tour and presentation detailing redevelopment efforts and new investments as part of the attraction's 100-year anniversary. State Sen. Linda Holmes, D-Aurora, who chairs the Senate Committee on Commerce and Economic Development, emphasizes the importance of tourism in Illinois' economy.

"As we look at ways to strengthen Illinois' economy and create jobs, we cannot overlook the tourism sector, which continues to thrive," Holmes said. "State government should be looking for opportunities to partner with tourist destinations like Navy Pier whenever possible to create jobs and sustain economic growth."

Navy Pier, Inc. President and CEO Marilynn Gardner and Chief Development and Strategy Officer Patrick Sheahan led the tour, showing legislators the new Centennial Ferris Wheel, recently renovated event spaces and the future site of a hotel with views of the lake and the skyline. They also heard a presentation from Navy Pier officials regarding the Centennial Vision plan, which lays out changes and investments for the 21st century.

In total, over 3,000 employees work at 77 businesses and five nonprofits located on Navy Pier. In 2016, the tenant partners including attractions, boats, restaurants, retail and others, generated over $123 million in total gross sales and an estimated $12.6 million in sales tax revenue.

"We are grateful to lawmakers for taking the time to visit Navy Pier and see firsthand its remarkable transformation into a leading cultural district," Gardner said. "The impact and legacy of Navy Pier is more than just our phenomenal programming. It's about place making – enhancing our unique space, ensuring it remains the People's Pier, and bringing it to life with dynamic and eclectic experiences that inspire discovery and wonder."

Navy Pier's impressive tourism numbers are part of an ongoing positive trend in Illinois. In 2016, the state welcomed 110 million domestic visitors who supported more than 300,000 jobs statewide. Chicagoland is doing particularly well at attracting tourists, exceeding the national average for tourism industry growth in recent years.