Published: Monday, August 28, 2017 09:02 AM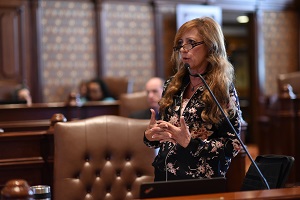 SPRINGFIELD – Gov. Bruce Rauner has signed legislation sponsored by State Sen. Linda Holmes, D-Aurora, to establish a task force investigating electronic notaries.
"With the technology that we have, it is worth looking into whether or not one should need to see a notary in person anymore," Holmes said. "This task force will look for inefficiencies in our current system and try to fix them with technology."
Current Illinois law requires physical presence and proof of identity for individuals attempting to get a document notarized. The task force would investigate alternative verification methods including video or audio conference technology that are already in use elsewhere. The Virginia state legislature passed legislation allowing electronic notarization in 2015.
The legislation, Senate Bill 1459, has been signed into law. It goes into effect immediately.
Category: Latest